The original English-language podcast about Finnish football. Presented by Mark W, Mark H, Rich, Keke & Ally, five Brits with Finnish wives and shared passion for the beautiful game. @explorefinland @fcsuomi @escapetosuomi @kekemyllari & @mano99 bring you a variety of show formats; the original Finnish Football Show discussion show, interviews with key people in Finnish football, and Match Reports of key Finnish national team games. FFS – supporting football in Finland since 2015.
Episodes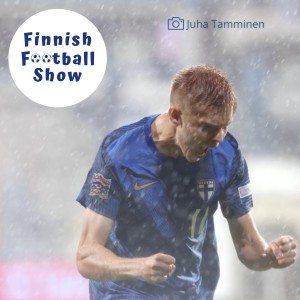 Thursday Sep 29, 2022
Thursday Sep 29, 2022
IN THIS EPISODE...
UEFA Nations League B3, Game 6
Finland's sixth and final Nations League game was quite something. Two days of heavy rain, topped-off by a continuing deluge during the game, was not enough to calm Montenegro's passion. This resulted in an early-red card, several first-half substitutions and, ultimately, a two-goal victory for Finland and a nearly heroic performance from Antman (Oliver Antman, no relation!) 
Mark W & Rich talk through the action and are joined briefly by Keke with his ringside view of the rain. And some football.
Blog: show notes and links https://finnishfootballshow.com/2022/09/29/match-report-montenegro-0-2-finland/
------------------------------------------------------------------
FFS MERCH
👕 Apparel, cases, bags, badges https://www.teepublic.com/user/finnish-football-show
☕️ Mugs, stickers https://www.redbubble.com/people/DYWMpodcast/shop
SUPPORT THE SHOW
🍺 Buy Us A Beer https://www.buymeacoffee.com/FFSpodcast
FEELING SOCIAL?